Renewed Sustainable Lawn Mission at GreenBuild 2010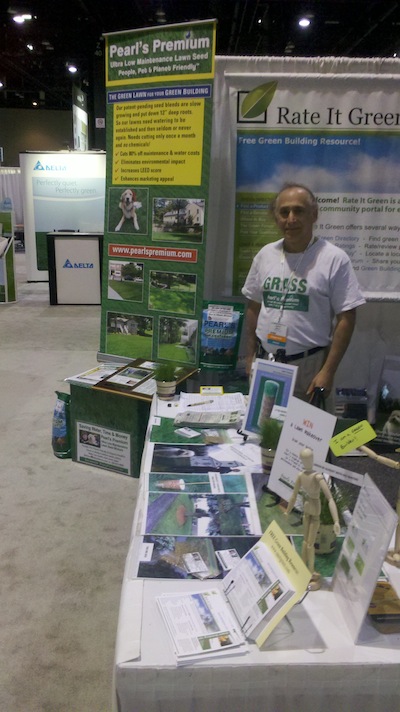 We just packed up our booth after attending GreenBuild 2010 in Chicago (see me in photo in our booth we shared with Rate It Green). It was mind blowing to see so many cool and intriguing new products on the "green front." It turned out to be a very busy few days at our Pearl's Premium sustainable lawn seed booth as we got to speak with all kinds of people with different problems and questions.
The key message we left with is that grass can be part of the sustainability discussion. In fact, almost everyone we talked to loves and wants a great, green grass solution for their green buildings.
Being at GreenBuild made me feel great to be a part of something that is making such a positive impact for both the planet and the people living on it. It also energized me to redouble our crusade for sustainable lawns.
Our goal for 2011 will be to "put lawn back in the L.E.E.D. discussion." Properly installed and maintained a Pearl's Premium lawn can deliver real economic and environmental benefits: 50-75% less mowing and watering and no toxic chemicals. That is sustainable!
So, thanks to all of you who stopped by!
Thanks also to
Rate It Green
, our booth partners and a truly great resource for people looking to build green. Check them out!