Boston Herald Features Pearl's Premium, Selected for MassChallenge Business Competition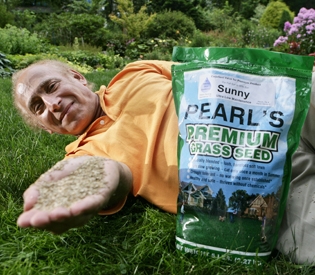 Mass Challenge start-up co. contest names finalists
Planting the seeds
By Thomas Grillo
Monday, July 26, 2010
Jackson Madnick, creator of Pearl's Premium grass seed, is one of 110 finalists in the Mass Challenge business startup competition, which will award $1 million in cash prizes and free office space on Boston's Fan Pier. Read More Below.
Being well-heeled may soon get easier.
If Candice Cabe is successful, women will be wearing shoes that can switch from high heels to low heels quickly.
"The idea is to go from stiletto to kitten heels in 30 seconds," said Cabe, founder of Day 2 Night Convertible High Heel Shoes, a Bay State start-up that hopes to launch its footwear Web site and begin production next year. "My shoes eliminate the need to carry a second pair in your purse."
Cabe's shoe provides interchangeable heels from one to four inches. Her Newton company is one of 110 firms that made the Mass Challenge finals in what has been called the world's largest global start-up competition. The entrepreneurs are vying for a share of $1 million in cash prizes and office space on Boston's Fan Pier.
In October, up to 20 winners will receive $50,000 to $100,000 in cash to launch their businesses and a free office at One Marina Park, next to the federal courthouse. The state has pledged $500,000 to bolster innovative companies. Last week, 86 finalists from the Bay State made the cut. The contest began in April with more than 400 entrants from 26 countries and 24 states.
"These Mass Challenge finalists further demonstrate the commonwealth's ability to ignite the entrepreneurial spirit at an international level," said Gregory Bialecki, Secretary of Housing and Economic Development. "This competition will further ignite entrepreneurial activity in Massachusetts, create long-term, sustainable jobs, and move the state's innovation economy forward."
If Cabe wins, she plans to use the cash to create a prototype for the shoe, launch a Web site and place her first order with a manufacturing plant in China. "Winning could make all the difference," she said. While Cabe insists she thought of the idea first, CamileonHeels.com offers a similarly designed shoe that sells for $210 to $325.
Mass Challenge rules do not penalize entrants if they have competitors or if they already have a product on the market.
Jackson Madnick, founder of Pearl's Premium, a low-maintenance grass seed, said winning could take his company to the next level. "We want to go national and global," he said. "We recently passed 4,000 lawns installed and our seed is available at Whole Foods Market."
A five-pound bag of the seed costs $33 and will cover 1,000 square feet, he said. The grass seed industry is full of competition with Scotts Co. leading the way. They offer five pounds of grass seed starting at $13. In April, Scotts introduced its $22 Groundskeepers Select for lawn owners seeking to recreate Fenway Park's field of dreams.
But Madnick is undaunted. "I don't want to put down any other mix, there are lots of fine ones," he said. "The benefit of Pearl's is that it only has to cut once a month, seldom has to be watered and never needs chemical fertilizers."
Joseph Fallon, developer of the $3 billion Fan Pier project, one of Mass Challenge's biggest boosters, donated one floor – 25,000 square feet of space – at his 500,000- square-foot building at One Marina Park Drive on a temporary basis. "My number one priority is to help create jobs," he said. "Of course, I hope that some of these innovative companies will take off and rent space in this spectacular building overlooking the city and Boston Harbor. The elements that foster entrepreneurship are all right here."