Sustainable Grass Meets Sustainable Rapid Transit... Very Cool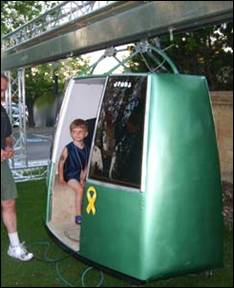 I love Hull! A beautiful beach arching along the Atlantic bookended by majestic big wind turbines and populated by an energized citizenry.
We do several sustainability events in the name of the Pearl's Premium grass seed mission to make the American lawn sustainable - less mowing, less watering, no chemicals - and always have fun there.
Check out their latest idea (photo at left) and join them this Sunday afternoon from 1 to 4pm at Steamboat Wharf, if you can, to talk about Personal Rapid Transit via JPod... very cool!
And if you've ever been on Nantasket Beach or stuck in your car trying to get there on a hot summer day, a JPod would come in might handy. And, of course, since you've got a Pearl's Premium ultra low maintenance lawn that doesn't need much mowing or watering, you've got more time to hit the beach!
If you can't make the meeting, check out www.jpods.com.