Sunscreen for Dogs and Other Hot Topics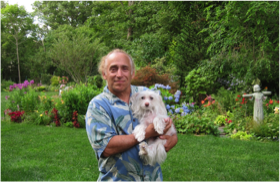 Summer is a great time to be active outside for people and pets too. While most people are good about using sunscreen on themselves and their kids, some might not think about the effects of the sun on their four-legged family members.
After spending a day in the hot summer sun with Zoe, Jackson's newly-adopted and decidedly sun-averse doggie (see what I mean in photo), I got to thinking about puppy sun screen...
It turns out that your pup can suffer the discomfort (and danger) of sun damage just as you (and your lawn) can.
I did some digging and found a great website with some tips and information on sunscreen for dogs. It's called Natural Dog Health Remedies. Check it out.
Hope everyone is enjoying their summer, your lawn hasn't burned out in this record heat and drought and you've got plenty of sunscreen for you and fido!