Saving a Dog and Eschewing Lawn Chemicals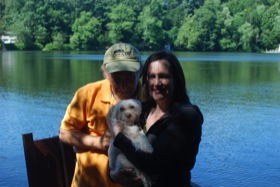 We adopted a dog this week! Its a cute little thing called a Chinese Crested Powder Puff Terrier. The name's a mouthful, but the dog is bite-size. The photo shows Betsy and me with Zoe on our dock on Dudley Pond in Wayland (MA). I started Pearl's Premium to get the chemicals out of the lake, but when I learned what lawn chemicals did to dogs, it took on a whole other meaning.
The short story is dogs walk on treated lawns, chemicals get on their paws, chemicals sting, dogs lick paws and ingest chemicals, dogs get sick in alarming rates! And the word is getting out.
Check out what vet Margo Roman and other have told us about lawn chemicals and animal health risk.
We sell a lot of Pearl's Premium lawn seed to pet owners who are worried about this risk. And Sav-a-dog, the great non-profit dog rescue organization where we got Zoe, is on board too. They made us sign adoption papers that reviewed the dangers of chemical lawn care products and flea/tick medications for pets and committed us to not putting chemicals on our lawn. Good for them!
Our dogs are up to date on vaccinations, but we don't over-vaccinate as we know that this can lead to immune deficiency problems. We use holistic care and homeopathy as our primary medical protocol. We need to educate the pet adoption community about these issues!