Raise your hands in the air and repent!

We woke up after one of the best sleeps ever had in a pop-up camper (more on our sustainable camper later) to the sound of a Doberman Pinscher relieving himself on our wheel. We didn't mind because we're pet-friendly! After a stretch and some coffee we headed out on the first leg of our trip to Kentucky. The beautiful hills and colors of the earth were a sight to behold and reminded us of the fabric of America.
This photo kind of captures all that beauty. Hey, did you notice all that grass too!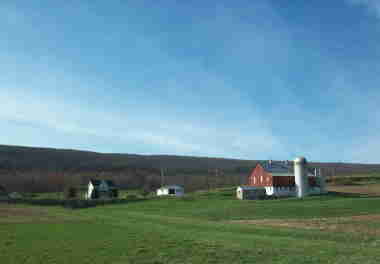 We saw many unique and beautiful barns, including one with a roof fully decked out in solar panels, a hopeful sign of positive solutions for our world's energy. We also read in the paper that emission standards are having a tune up of their own, as reported by gas2.org: "It has been decades since anyone decided to up the fuel economy ante and force automakers to improve their CAFE ratings…..former President George W. Bush got the ball rolling by requiring automakers to reach 35 mpg by 2020. But Obama, swinging the bola of Hope and Change, has pushed those standards up to 2016, while adding in incentives for plug-in and alternative fuel vehicles." Right on!
We were firmly advised by a painted sign bigger than most billboards on the side of another barn we passed to "raise your hands in the air and repent!" Wondering exactly what repent meant, we Googled it and found that Wikepedia defines repentance as "a change of thought or action to correct a wrong." We liked that. So, we ask you to join us now and repent against high maintenance lawns that run off into our watersheds, our streams, ponds and lakes and our drinking waters!
Ok, I feel better now. You?
Jackson