Bourbon and Candy

The past week has been a blur! We've met so many unique and helpful people in Kentucky and Ohio. Along with lovely green spaces and a friendly atmosphere, we have found likeminded folks with an earth-friendly attitude. We even passed a store with something for everyone (see the picture for more insight).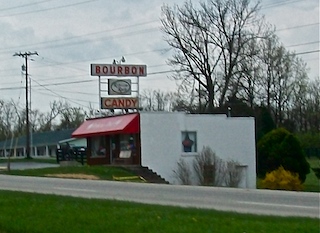 The Whole Foods Teams in these areas were very welcoming to our product and more importantly our cause! In Lexington, we met many people who were interested in transitioning from their traditional landscape to a healthier, safer, lower maintenance lawn. Lexington is horses country - many of these beautiful beasts are worth many times my own personal mode of transport (I'm thinking Kentucky Derby). Not surprisingly, there is a strong desire to protect their well-being as well as a real need to be budget-wise in other areas of life (horses are expensive companions). "Bingo!" sounds like candidates for a healthy, low maintenance lawn.
In Ohio, we were also warmly received, and I met some great people. In Mason, Ohio I made two special friends, Gary and Oscar. Oscar, aka "Big O," is a four year old who showed up to our table wearing a wild things inspired wolf hat and was extremely inquisitive, asking a lot of "Why?" and "How come?" questions. He brought light and youth to our minds and inspired us with his good nature and pure spirit, clearly the result of a careful and loving upbringing by his dad Gary, a Whole Foods employee.
Steve at Whole Foods Columbus was very helpful and interested in the sustainable lawn message and how to help spread the word. He set up quite the outdoor floral display, something to be proud of, for sure.
So many miles, so little time! We thank everyone we've met for their help and advice, words of wisdom and smiles. On to the next stop!