MassChallenge Win Resounding Validation for our Sustainable Lawn Care Mission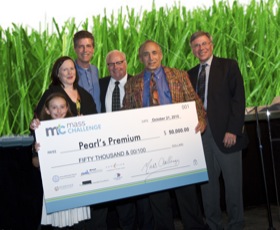 We did it! Pearl's Premium won a $50,000 cash prize at the MassChallenge international competition for innovative ideas.
With 446 startups from across the U.S. and 26 countries competing in MassChallenge, winning was a great honor and a resounding validation for how Pearl's Premium grass seed can help not only save money and water on lawns, but also drive positive societal change.
My partner and seed developer, Jackson Madnick calls Pearl's Premium "an environmental and economic game changer." He says, "this is a national issue not a local issue, because numerous scientific studies have linked lawn care chemicals with increasing health risks such as learning and behavior problems for children, dog cancers, as well as Parkinson's Disease, asthma, cancer and leukemia. Additionally, lawn irrigation waste is a major drain on drinking water supplies in the U.S. Americans waste between 30% and 60% of our summer drinking water supply on residential and commercial lawns, according to EPA statistics. Madnick conceived this big idea, "I developed Pearl's Premium to help make American lawns more environmentally sustainable. In the process, I found out that we could also save lawn owners a dramatic amount of money, time and water and help lower their carbon footprint." How much? Well, Americans spend $40 billion annually on lawn care!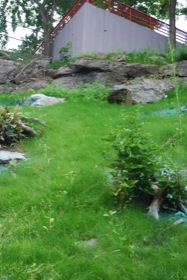 Boston Mayor Thomas M. Menino saluted the entrepreneurs, stating: "MassChallenge has brought hundreds of innovators to Boston… your dreams drive our economy forward."
The City of Boston is already putting Pearl's Premium to work in one of its parks, using this lawn seed to save money and reduce maintenance risk on the steep slopes at Clarence "Jeep Jones" Park in Roxbury. (Photo at right)
Massachusetts Governor Deval Patrick stated: "This is a shining example of public-private partnership, helping grow jobs and the economy."
As a result of that collaboration, Pearl's Premium launched several demonstration lawn projects with MassPort at both Boston Logan International Airport and Worcester Regional Airport. These airport projects are intended to showcase how Pearl's Premium can reduce maintenance costs, increase safety, and improve sustainability at state, federal and town-run facilities.
The MassChallenge win was the most recent step on an 8-year journey of research and development that led to our patent pending, low maintenance grass seed blends. We've developed grass seed mixes that grow at one quarter the rate of blue grass, requiring lawn mowing only once a month rather than every week, and still looks like the beautiful, lush, green lawn that we all want. Our blends also put down 12-inch roots. So, Pearl's is very drought tolerant and seldom or never needs water once established in the northern half of the country. In southern states, it needs far less water than other grasses.
Pearl's Premium thrives and stays green without chemical fertilizer, preventing chemical fertilizer runoff and protecting the health of lakes, ponds, and drinking water while reducing invasive weeds. Pearl's Premium Ultra Low Maintenance lawn is also an oxygen-producing carbon sink to pull carbon out of the air and trap it in the ground to lessen greenhouse gasses and mitigate climate change. Thus, it is healthier and safer for children, pets, ponds and the planet.
We can't rest on our laurels, but it sure feels good to get some validation along the way.
We're Pearl's Premium, and our mission is to make the American lawn sustainable.
Thanks for your continued support.