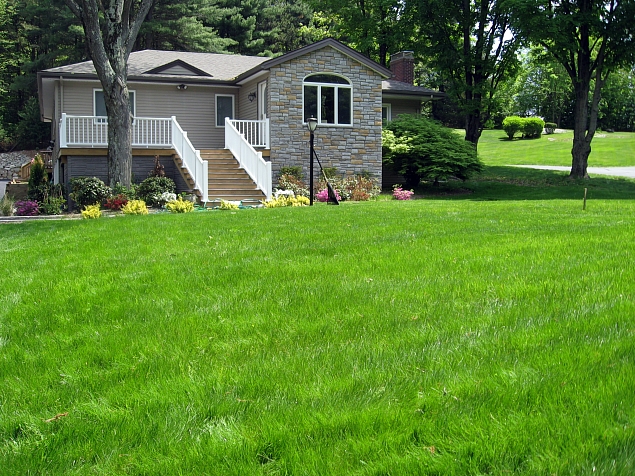 Record early summer heat and drought have left a lot of lawns scorched. Pearl's Premium sustainable lawn seed provides an eco-friendly solution. With roots up to 12" deep and very slow growth, Pearl's Premium is extremely drought tolerant, requires less mowing, thrives without harmful chemicals and cuts your carbon footprint.
This innovative low maintenance lawn seed is just the answer for greening up your lawn next summer - like the beautiful lawn at right in mid-summer with little water.
And fall is the best time to plant grass!
Pearl's Premium costs a little more than typical, high maintenance lawn seed but it pays you back quickly in terms of less mowing and watering, a safer backyard and a more sustainable planet.
So, now your lawn can be as green as your roof!
To help you get started groSolar has arranged a special introductory offer.
Save $7.50 per 5 lb bag (covers 1,000 square feet).
Click here to take advantage of this special offer.
Remember to enter the coupon code "groSolar" at checkout.