Phydura Organic Grass and Weed Killer, 2.5 Gallon Concentrate
SKU: 84432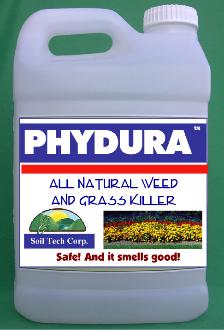 Apply Phydura to your existing lawn before seeding to give your new Pearl's Premium lawn a leg up.
Phydura is an all natural, non-selective herbicide made from clove oil, citric acid and other biodegradable ingredients. Weeds controlled include both grasses and broadleaf weeds in lawn, landscape, nursery, greenhouse, and garden settings. When you spray Phydura, it binds to the surface of the plant and begins to destroy the cell structure through a burn down process. As soon as Phydura is applied, the plant begins to stress, and results can be seen in as little as one hours after application. In general, treated weeds are eradicated within 24 - 48 hours of treatment.
Phydura is 100 percent biodegradable and has a pleasant scent.
Excellent for killing your existing lawn before installing Pearl's Premium low maintenance lawn
Phydura kills weeds and grasses. Use in spot application in any area!
Wilting begins in 20 minutes. Plants are dead or dying in 24 hours!
Phydura kills annual weeds quickly. Perennials may need two sprays to kill roots
Use Phydura to destroy weeds under Raspberry, Blackberry, and Blueberry plants
New planting can begin within hours after treating an area with Phydura!
Phydura will kill tough stubborn plants like dandelion!
Children and pets can safely enter treated areas with Phydura after spray has dried!
Spot treat sidewalks, patios, driveways, around buildings and greenhouses
Prepare and maintain flowerbeds and vegetable gardens
Rebuild old diseased lawns before re-planting
Edge around trees, shrubs, and walkways
Keep fences clear of weeds and grasses
Phydura is a non-selective spray application that is exempt from EPA registration and has no re-entry interval.


Technical Specifications
One gallon of the Phydura concentrate should be mixed with 3 gallons of water to get 4 gallons of diluted spray
One gallon of diluted spray treats about 625 sq. ft.
One gallon of the Phydura concentrate - when diluted with 3 gallons of water - treats 2500 sq ft.
Download Phydura Material Safety Data Sheet.